Organic Oil + ORMONICA Scalp Shampoo
Formulated with a total of 51 botanical components, including 20 different organic components and 31 different natural components, this shampoo creates an optimal hair and scalp environment.
Rich creamy foam gives a remarkably gentle healthy finish with the natural feeling of organic materials.
Just add the organic oil, and you will be surprised at how excellent and smooth combing your hair will be.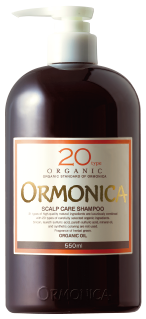 Lustrous, bouncy and silky-smooth
For a healthy scalp.

ORMONICA Organic
Scalp Care Shampoo
550ml 
Patch-tested ● Not everyone is free from sensitivity to this product.
Silicone, sodium laureth sulfate, sodium pareth sulfate, mineral oils, animal-derived materials and synthetic colorants are not used in this product.
INGREDIENTS(All components in each product)
ORMONICA : All components in each product
ORMONICA Organic
Scalp Care Shampoo
・550ml
・Refill 400ml
・Trial Set 10ml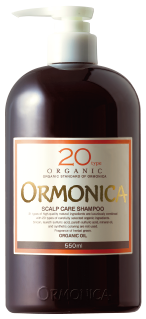 WATER,COCAMIDOPROPYL BETAINE,DISODIUM COCOYL GLUTAMATE,COCAMIDE DEA,LAURAMIDOPROPYL BETAINE,SODIUM CHLORIDE,SODIUM COCOYL GLUTAMATE,LAVANDULA ANGUSTIFOLIA (LAVENDER) OIL*,ROSA DAMASCENA FLOWER OIL*,CITRUS GRANDIS (GRAPEFRUIT) PEEL OIL,CITRUS AURANTIUM DULCIS (ORANGE) OIL,ROSMARINUS OFFICINALIS (ROSEMARY) LEAF OIL*,OLEA EUROPAEA (OLIVE) FRUIT OIL*,BUTYROSPERMUM PARKII (SHEA BUTTER)*,SIMMONDSIA CHINENSIS (JOJOBA) SEED OIL*,RUBUS IDAEUS (RASPBERRY) SEED OIL*,HELIANTHUS ANNUUS (SUNFLOWER) SEED OIL*,SESAMUM INDICUM (SESAME) SEED OIL*,CUCUMIS SATIVUS (CUCUMBER) FRUIT EXTRACT*,CRATAEGUS MONOGYNA FRUIT EXTRACT*,ACHILLEA MILLEFOLIUM EXTRACT*,SALVIA OFFICINALIS (SAGE) LEAF EXTRACT*,THYMUS VULGARIS (THYME) FLOWER/LEAF EXTRACT*,ROSA CANINA FRUIT EXTRACT*,VACCINIUM MYRTILLUS LEAF EXTRACT*,LAVANDULA ANGUSTIFOLIA (LAVENDER) FLOWER EXTRACT*,ROSMARINUS OFFICINALIS (ROSEMARY) LEAF EXTRACT*,CALENDULA OFFICINALIS FLOWER EXTRACT*,ERIOBOTRYA JAPONICA LEAF EXTRACT,GLYCYRRHIZA GLABRA (LICORICE) LEAF EXTRACT,COIX LACRYMA-JOBI MA-YUEN SEED EXTRACT,SAPINDUS TRIFOLIATUS FRUIT EXTRACT,GLYCYRRHIZA GLABRA (LICORICE) ROOT EXTRACT,SAPINDUS MUKOROSSI PEEL EXTRACT,QUILLAJA SAPONARIA BARK EXTRACT,DIPOTASSIUM GLYCYRRHIZATE,BISABOLOL,OLEA EUROPAEA (OLIVE) LEAF EXTRACT,NASTURTIUM OFFICINALE LEAF/STEM EXTRACT,ARCTIUM LAPPA ROOT EXTRACT,HEDERA HELIX (IVY) LEAF/STEM EXTRACT,SAPONARIA OFFICINALIS LEAF EXTRACT,CENTELLA ASIATICA EXTRACT,SCUTELLARIA BAICALENSIS ROOT EXTRACT,POLYGONUM CUSPIDATUM ROOT EXTRACT,CAMELLIA SINENSIS LEAF EXTRACT,CHAMOMILLA RECUTITA (MATRICARIA) FLOWER EXTRACT,VACCINIUM MYRTILLUS EXTRACT,SACCHARUM OFFICINARUM (SUGAR CANE) EXTRACT,ACER SACCHARUM (SUGAR MAPLE) EXTRACT,CITRUS AURANTIUM DULCIS (ORANGE) FRUIT EXTRACT,CITRUS MEDICA LIMONUM (LEMON) FRUIT EXTRACT,ARNICA MONTANA FLOWER EXTRACT,HYPERICUM PERFORATUM FLOWER/LEAF/STEM EXTRACT,HAMAMELIS VIRGINIANA (WITCH HAZEL) LEAF EXTRACT,VITIS VINIFERA (GRAPE) LEAF EXTRACT,AESCULUS HIPPOCASTANUM (HORSE CHESTNUT) SEED EXTRACT,MENTHA PIPERITA (PEPPERMINT) LEAF EXTRACT*,POLYQUATERNIUM-7,POLYQUATERNIUM-10,TETRASODIUM ETIDRONATE,CITRIC ACID,PROPANEDIOL,BUTYLENE GLYCOL,ALCOHOL,BENZYL ALCOHOL,SODIUM DEHYDROACETATE,FRAGRANCE,DISODIUM PHOSPHATE,POTASSIUM PHOSPHATE
*Organic components
How to use Organic Shampoo
How to use Organic Shampoo
Though you can use this organic shampoo like you usually do, we recommend the following steps in order to make the best use of the functions of ORMONICA Organic Scalp Care Shampoo.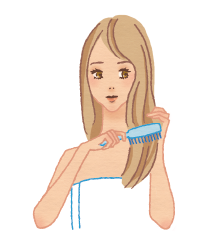 Brush and Dampen
First, brush the tangles from your hair to ensure that any build up from the wear of the day can be easily removed. Second, dampen your hair before shampooing. Wet your hair and scalp in the shower to open your pores and loosen the hold of any hair styling products you have used.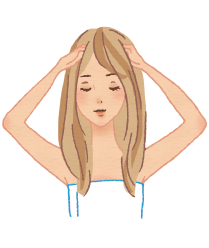 Massage your scalp well
Apply 2 to 3 pumps worth of shampoo to your hand and spread it evenly on your scalp. Use the tips of your fingers to softly pat it into the surface of your scalp. Be careful not to scrub it strongly.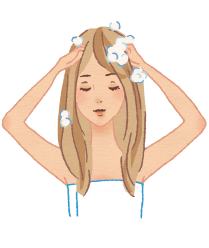 Massage and wash
As you massage your scalp, press into your pores to release the oils trapped there. We recommend pressing and squeezing your scalp tightly with the tips of your fingers and not your nails. Your scalp massage should take about three minutes, using gentle but firm movements and moving the location of your hands little by little.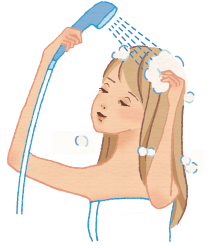 Rinse well
After completing your massage, rinse your hair and scalp well. Do not leave any shampoo on your hair or scalp. Wring your hair lightly, taking care that you do not squeeze your hair tightly or rub it roughly.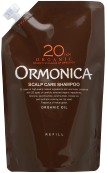 ORMONICA Organic
Scalp Care Shampoo
Refill
400ml 

ORMONICA Organic
Scalp Care Shampoo & Hair Complete
Trial Set
10ml
The handy set is useful for travelling, whether on business or on holiday excursions.
How to use the refillable package
Refill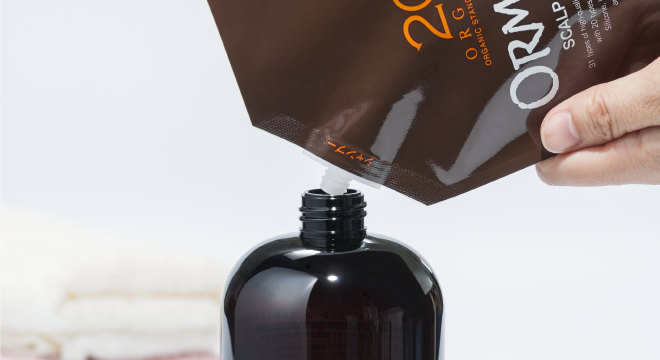 ORMONICA's Aim
Refill and be kind to the environment
Many common shampoos and conditioners are refillable.
However, it has been difficult for organic cosmetics to secure their products' safety when they are refilled, since they are produced directly from plant components.
ORMONICA has tried to tackle this problem by aiming to be friendlier to the environment.
We have can finally offer refillable products to our customers enjoying an organic daily life.
The products are still delicate. Please follow the appropriate instructions for use for each product.
How to refill ORMONICA Shampoo/Hair Complete
Please mind the following instructions to retain the quality of your ORMONICA product.
"Dedicated bottle" here means bottles exclusively used by and for ORMONICA Shampoo 550ml / ORMONICA Hair Complete 550ml, respectively.
The quality of our product may deteriorate if placed in bottles produced commercially by other companies for a variety of uses. Our bottles are made to required specifications to prevent the organic and essential oils from changing the composition of the bottle material. Our bottles are also formulated to protect our products from ultraviolet rays passing through the bottle. Therefore, we strongly recommend using our dedicated product bottles for refill use.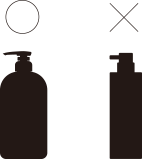 2
Wash the empty bottle to be refilled well.
If any old product is left in the bottle, it will be mixed with new one
and change the expiration value of the new product.
(The expiration date is managed by ABS co., ltd according to the product serial numbers.)
To correctly use the fresh product,
please wash the empty bottle clean with cold or hot water before refilling,
and check if there is any product still inside of the pump. If so, empty it out.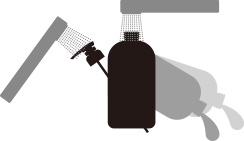 3
Dry out the washed bottle
If it is not dry enough,
some water will be mix with the product
and may cause an imbalance in the formula content
or deterioration due to an unexpected proliferation of bacteria.
ORMONICA products contain the least amount of antiseptic substances possible
to avoid complications from applying them to the skin.
Please air dry the bottle completely (leaving it drying naturally in a room) before refilling.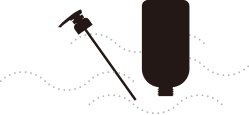 4
One bottle can be refilled up to 3 times
Bottles and pumps gradually deteriorate over time.
The pump that sucks up the liquid inside the bottle and accordingly its spring are especially prone to deterioration each time it is used.
The pump ORMONICA employs is durable for more than 1,000 uses based on normal performance.
We recommend replacing it with a new bottle after three refills.
*This is a standard guide obtained from the results after the pump was tested approximately 1,000 times.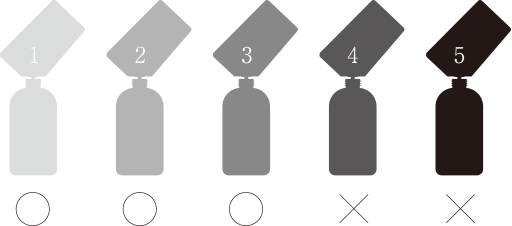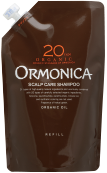 ORMONICA Organic
Scalp Care Shampoo
Refill
400ml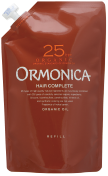 ORMONICA Organic
Hair Complete
Refill
400ml
A formula with natural components added to organic components produces more foam and keeps hair and scalp clean.
2
It prevents rough, dry hair.
Adding oil derived from plants leaves hair hydrated, lustrous and with a dewy finish after washing.
The green herbal aromatic effects of jasmine, lavender and citrus fragrances bring you a comfortable sleep and help you wake up feeling refreshed.
The scalp is relieved from dryness and retains moisture.
Moisture loss is prevented from the surface of the scalp.
Bark extracts and root extracts keep your scalp feeling refreshed and restore hair roots to a healthy state.
Organic olive oil, shea butter and jojoba oil keeps hair and scalp securely clean while properly regulating sebum.